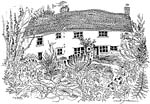 I make no apology for featuring Ronald Blythe once again on this Blog. Ronnie is the President of the Clare Society, and writes weekly for the Church Times. Below is this week's wonderful essay.
To Keswick
for the literature festival. To get into the train at Euston and to remain in it until Penrith, what happiness! Nearby, a Scottish woman reads to her little son Oscar just loud enough for me to enjoy the tale.
There is Staffordshire, there is Lancaster, there is Penrith, and there, getting out of a rear carriage is the poet A. Alvarez waving his stick in greeting. And here suddenly are the mountains in their endless permutation of shadows. On a March day in 1801, Coleridge's small son "Looking out of my study window fixed his eyes steadily & for some time on the opposite prospect, & then said - Will yon
Mountains
always be?"
They were in freezing Greta Hall. I am in a snug hotel where snowy Skiddaw rises behind an enclosed swimming pool in which a novelist splashes up and down, making the most of this outing, for, as everyone knows, we writers tend to be penned up, as one might say, immured from each other for most of the time. Now we mix and identify. So that is what Deborah Moggach looks like.
After dinner, Louis de Bernières stands up to recite "What gat ye to your dinner, Lord Randal, my son?". "Now your turn," somebody insists, turning to me. But in the first place I am suddenly empty-headed, and in the second place poor poisoned Lord Randal "fain wald lie doon" and must not be disturbed. Also, I am thinking how like Coleridge Louis looks, a large rumpled figure with a searching gaze.
With a couple of hours to spare before I give my talk, I make the most of Derwent Water, first strolling along its edge, then striding off recklessly towards a muddy wood where huge machines are doing a bit of felling. It comes on to snow, and then to rain, and then both.
I take shelter beneath a boat, and take heart from Coleridge, although he was only in his late 20s when he climbed and skidded around Keswick. And he was so ill! How ill folk were then. Those authors up at the hotel, how healthy they look. He used his aches and pains "as a Storehouse of wild Dreams for poems, or intellectual Facts for metaphysical Speculation".
I look at my watch and see that I have to be on stage in half an hour. But I have lost my way. The snowstorm has blinded me. I hurry along in the wrong direction. An old lady appears. She stares at my feet to see if my shoes are fit for a short-cut across a drenched hill, and they are, and in minutes I am at the Theatre by the Water reading from my novel The Assassin. Coleridge named his son Derwent after my Lake. It means a river where oaks are common.
Then home to readings and music at Little Horkesley in a full yet cold church, for there come winter days in these buildings when their heating is no match for the determined low temperatures that they have inherited from the Middle Ages, and one might be cosier in the churchyard.
The music includes Trevor Hold's settings of John Clare, who loved the Lakeland poets. I find it moving that all our storytellers, from whoever it was who wrote Lord Randal to those who make their way to 21st-century literature festivals, have seen the same scenery, breathed much the same air. Looked into much the same faces.
Just before evensong, a quarter-peal was rung for Henry our new Priest-in-Charge, and we sang beautiful words about going from strength to strength, and about nesting birds finding protection on altars, and about "Through the hours in darkness shrouded Let me see thy face unclouded," as we called it a day.
(Ronald Blythe - Church Times [18th March 2005])