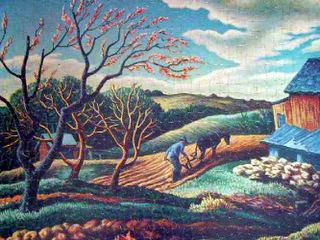 "My love is young and handsome
As any in the town,
She's worth a ploughman's ransom
In the drab cotton gown."
He sang and turned his furrow oer
And urged his team along,
While on the willow as before
The old crow croaked his song:
The ploughman sung his rustic lay
And sung of Phoebe all the day.
The crow he was in love no doubt
And [so were] many things:
The ploughman finished many a bout,
And lustily he sings,
"My love she is a milking maid
With red rosy cheek;
Of cotton drab her gown was made,
I loved her many a week."
His milking maid the ploughman sung
Till all the fields around him rung.